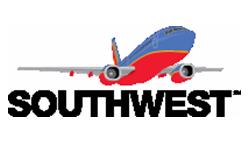 Digital News Report
Digital News Report – Southwest Airlines says their traffic rose last month. Although they have the third largest fleet of aircraft, the Dallas based company is already the world's largest carrier by number of passengers carried per year.
The company is known for their low air fairs. They have deals where travelers can fly anywhere inside California for $49. They have specials between Denver and any serviced city in the South. Southwest has opened a new rout between Philadelphia and Boston for just $59 one way.
The company reports that they flew 6.7 billion revenue passenger miles (RPMs) in March 2010. That is an increase of .4 percent from the previous year. Their load factor was 81.0 percent, compared to 77.3 percent for March 2009.
The passenger revenue per ASM (available seat miles) also increased. "Passenger revenue per ASM is estimated to have increased in the 22 percent range as compared to March 2009," the company said in a statement.
By: Tim Edwards