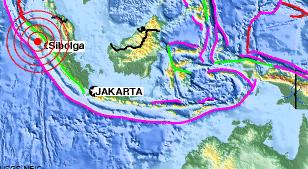 Location of today's quake
Digital News Report – A massive 7.7 magnitude earthquake struck Indonesia Tuesday around 5:15 AM (3:15 PM PST). There was a brief tsunami warning but it was quickly removed.
Initially the US Geological Survey (USGS) measured the event at 7.8 but later downgraded it. There was a 5.1 aftershock an hour later.
The initial quake was relatively deep at 19.3 miles below the surface of the earth.
The 2004 Sumatra quake which killed 230,000 people in fourteen countries when the subsequent tsunami passed over the Indian Ocean measured 9.1 on the Richter Scale and was also located at a depth of 19 miles. That was the second largest earthquake ever recorded just behind the 9.5 magnitude 1960 Valdivia, Chile tumbler.
Today's earthquake struck just before sunrise. There were not initial reports of injuries, death or damage to buildings. It was just miles from the Java Trench.
The fault is located on or near the Pacific Ring of Fire which starts near New Zealand and travels up through Japan and across the Elysian Islands and back down through California and to Chile (see map). Many of the largest quakes occur in these regions.