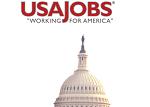 Digital News Report
Digital News Report – Government jobs are outpacing private sector jobs, according to recent statistics. Besides job security, government employment offers great benefits and relatively good pay.
Federal government jobs provide better pay than their private sector counterparts 83 percent of the time. The Bureau of Labor Statistics also has data according to industry.
The government provides flexibility, says the USA Jobs website. These jobs affect the lives of 300 million people.
The federal website says government jobs provide competitive salaries, student loan repayment, training and development. Some jobs will give workers a flexible work schedule.
The best advantage to working for the government is the benefits. The USA Jobs website says the Federal Government provides "comprehensive health coverage" and "generous vacation and leave policies."
The government is providing various videos that can be downloaded. Jobs range from contract specialists to human resources.
By: Robert Williams