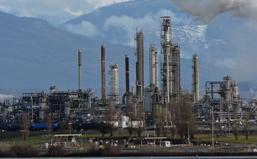 Tesoro refinery in Anacortes, Washington
Digital News Report – There were serious safety concerns at the Tesoro Corporation refinery in Anacortes Washington where five people were killed this week. The company was cited for five safety violations last year. Two of the violations were later dropped in a formal settlement.
The serious violations could have caused "death or serious harm". Diana Petterson, spokesperson for the federal Department of Labor said that the company knew or should have known about the hazard.
The fire started at 12:30 AM in the flammable naphtha unit of the refinery where maintenance was being performed. There were 10 workers at that location. Three were killed in the explosion and two died later from their injuries.
By Mark Williams