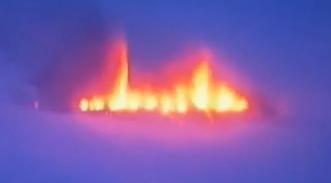 See video below
Digital News Report – Scientists are uncertain what the effects of the eruption of a volcano in Iceland will have on the world, but there are worries of global cooling if an event occurs. Last Christmas geologists started noticing deep earthquakes and the expansion of the earth's crusts near the Eyjafjallajökull glacier and volcano.
Now the volcano is spewing and burping lava at the surface. Steam and ash are being expelled form the open hole in the earth and scientists worry that if the volcano grows larger it could melt the glacier.
The bigger danger is that this eruption could trigger a major eruption of Katla, a neighboring volcano with a much larger magma chamber. Geologists believe that in the past the Evjafaillaiokull eruption was a precursor to larger eruptions by Katla.
Katla could spew much more ask and sulfur into the atmosphere causing the northern hemisphere to become bitterly cold.
An eruption of Katla could also cause a major flooding event. Nearby residents are being evacuated. Keflavik International Airport and Reykjavik Airports were closed earlier in the week.
The duration and size of the eruption will determine how cool the earth gets. The last major eruption occurred in 1918 and it usually erupts every 50 to 80 years.
By Mark Williams