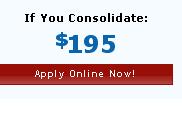 Image From Our Investigation
Digital News Report – Although President Obama signed a bill helping students get loans today, the economy has put many students into a bind paying for their loans. In some instances students may have several loans to pay off.
There are companies that specialize in Student Loan Debt Consolidation. The goal is to lower the monthly payment and create one bill out of many.
We used a student loan consolidation calculator at one loan service and found possible substantial savings. We plugged-in three loans.
1 – $10,000 at 2.48 %
2 – $15,000 at 6.8 %
3 – $4,000 at 6.0 %
Without the consolidation the company said our monthly expense would be $311. But if we were able to consolidate our loans into one monthly bill our payments would be $195.
That is a substantial savings, but the company said there are no guarantees. "All payments are estimated only; no guarantee is made that the estimates here will match an actual consolidation," they warned. "Your actual rates and amounts for consolidation are highly variable, based on the number of payments, balances at the time of consolidation, as well as interest rates."
Many companies are legitimate and will work to find you the best interest rate. Check with the Better Business Bureau before you decide. The BBB offers reports on companies whether they are listed with the bureau or not.
By: Tina Brown