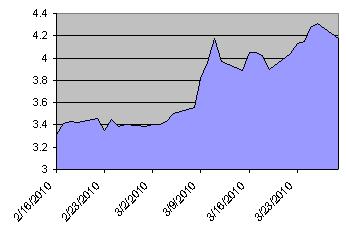 Price of Citi shares since February
Digital News Report – The U.S. government could make a profit from the sale of Citigroup stocks over the next 6 months, according to those familiar with the plan.
Citigroup was the most actively traded stock on the New York Stock Exchange (NYSE) today falling 3 percent to $4.18 per share.
The government has hired Morgan Stanley to manage the sale. The goal is to all 7.7 billion shares of Citigroup, Inc. common stock over the course of 2010 "subject to market conditions".
The government also holds preferred stock purchased in the Capital Purchase Program.
Randal Smith and Deborah Solomon with Dow Jones says the government will sell 8% to 10% of the shares traded daily, according to people familiar with the plan.
By: Tina Brown