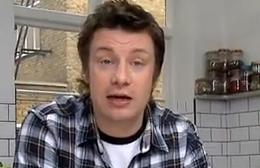 See Video Below
Digital News Report – Jamie Oliver's Food Revolution is not a diet plan but a roadmap to healthy eating and healthy living (watch the full episode #1 below). It is more than just cutting down the calories.
The television series, which starts tonight on the ABC network, will explore the eating habits of Americans. The Brit will travel to one of the least healthy cities in the United States, Huntington, West Virginia.
Oliver will visit a school and talk to the cooks. He created some friction when he complained about the instant mashed potatoes. He told the other chefs that they were not mashed potatoes as he read off the ingredients. "It tastes like starchy stuff with nuts in it", he told the camera man.
"This is about life and death", Oliver explains. "I am going to start with this one family; grassroots and let it grow and grow and grow, and that is how you start a revolution. Real people, real change."
Americans need more fruits and vegetables in their diet. He visited one family and discovered that they weren't consuming the right foods. Pizza, corndogs, French fries…. The list went on. By placing all of the food in one place at one time the family realized what they were doing to themselves.
The series will premier tonight with a special two hour event.
By: Jason Chang