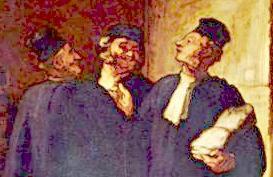 Honoré Daumier Painting
Digital News Report – While payday loans can be considered a loan of "last resort", there are instances when people need instant cash or cash the next day. The fees and interest can be considered usurious and there have been complaints.
In Milwaukee Wisconsin protestors lined up to call for reform. Reverends, pastors and priests petitioned Wisconsin State Senator Jim Sullivan for a cap on interest rates, the local Fox affiliate reported today.
The Legal Aid Society of Wisconsin, which has been fighting for residents facing foreclosure, has now taken up a new cause. Rather than 400 or 500 percent in interest, the society believes there should be caps.
Some in the industry feel that caps would dry up the business. The loans are unsecured and are short term. In some instances the loans can be processed within an hour.
Today a blogger for USA PayDay states that there are faxless payday loans available. The online version entails fewer "hassles", according to the report. You will need to give the agency your "real name, residency, contact number, age, bank account number".
The number of payday loans issued has skyrocketed over the past couple years. A blogger for Sales Grower, a business and personal finance website, calls the loans easy to get. Even with bad credit, these loans can be taken out online without any paperwork.
From Staff Reports