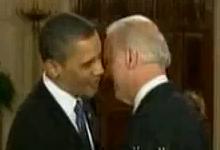 Biden and Obama Tuesday
Digital News Report – Vice President Joseph Biden, who is known for his gaffes, almost made it through Tuesday without making a big one (see video below). After making positive remarks about the President and the process of the health bill, Biden introduced his boss and said off-the-cuff: "This is a big f—ing deal!"
He didn't realize that the microphone on the podium could pick-up what he said as he leaned over to the President and gaffed. The definition of gaffe is saying something that is true but inappropriate.
The historic passage and signing of the health care bill was a big deal, but what he said was inappropriate. Biden gaffed and talk shows were buzzing about his f-bomb.
The President shook his hand and went about business. President Obama continued with his speech.
By: Mark Williams