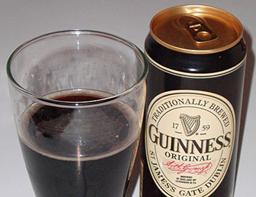 Guinness Original/Extra Stout
Digital News Report – Today is St. Patrick's Day and many people throughout the world are looking for something to do tonight. Whether you are in Ireland or New York or Tokyo, the popular drink will be Irish and maybe even green.
Dublin Brewer Arthur Guinness started making ales in 1759 when he signed a 9,000 year lease at £45 per annum. Within 10 years he was exporting his brew to England.
Although he didn't make the first stout beer, it is believed that he was the first to use the word "stout" to describe ale. In 1778 he began selling dark ale. The dark color and burnt flavor comes from roasting the barley.
Ale is a special type of beer brewed from malted barley using top-fermenting brewer's yeast. The fermentation process is quicker and gives a somewhat fruity flavor. Ales contain hops to counteract the sweet flavor. Hops give the beer a bitter taste.
Guinness makes and has made many varieties of beer / ale. Here are some of the varieties:
Guinness Draught
Guinness Original/Extra Stout
Guinness Foreign Extra Stout
Guinness Special Export Stout
Guinness Bitter
Guinness Extra Smooth
Guinness Mid-Strength
Malta Guinness (non-alcoholic)
Kaliber (non-alcoholic)
Guinness Red
250 Anniversary Stout
By: Robert Williams