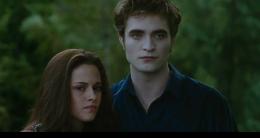 Scene From Eclipse
Digital News Reports – The "Eclipse" movie trailer was released today to the delight of "Twilight" fans everywhere (see below). Bella (Kristen Stewart) is torn between her love for a vampire and her love for a werewolf.
Robert Pattinson is back playing Edward Cullen and Taylor Lautner is back playing his nemesis, Jacob Black. You will also see Dakota Fanning as Jane.
This is a continuation of the previous two films, "Twilight" and the sequel "New Moon". Bella, the main character is loved by two young men who vie for her love. Bella leans towards Edward and even wants to become a vampire, but Edward is against it even though he loves her.
But then Jacob wants her too. In one scene Jacob tells Edward that he may not be right for her. He should leave her alone and let him have her.
Edward is busy fighting off the Volturi who are trying to kill her because he reneged on a deal. Edward just can't pull himself together to make Bella a vampire.
On March 20, 2010 the "Twilight Saga: New Moon" will be released on DVD. So what is the release date? The new "Twilight Saga: Eclipse" will hit the theaters on June 30, 2010.
Who should Bella choose? Leave your comment below.
Here is the video:
by: Jael Kirk