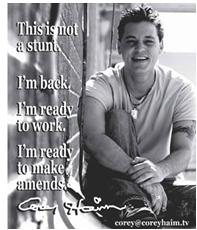 Corey's Variety Ad
Digital News Report – America woke up Tuesday to the sad news that 1980s teenage heartthrob actor Corey Haim died Wednesday in what police believe to be a drug overdose (see videos below). Late Tuesday night his mother Judy called 911 and he was taken to Providence Saint Joseph Medical Center in Burbank, California where he was pronounced dead at 2:15 AM Wednesday morning.
Although no illegal drugs were found at the scene, police say it appears to be an accidental overdose (perhaps legal drugs). The 38 year-old has been battling drug addiction for the past 20 years.
On CNN's Larry King Live a friend of Haim, Corry Feldman, said "he was very funny. He was tremendously funny." He was the only person who could make Feldman laugh until he was in tears.
Besides appearing with Haim in the 1987 "The Lost Boys" and 1988 "License to Drive" films, Feldman teamed up with his friend to make "The Two Coreys", a reality TV show on A&E. They began working on the show in 2006 and filmed two seasons before A&E ended it.
In 2008 Haim tried to make another comeback on-the-heals of his reality show with an ad in "Variety" that stated "This is not a stunt. I'm back. I'm ready to work. I'm ready to make amends."
Haim did appear again with Feldman in the 2008 film "Lost Boys: The Tribe" and got a bit-part alongside Jason Statham in "Crank: High Voltage".
Haims began his acting career at age 11, but it was the role in "Lucas" in 1986 that established his teen appeal. The next year, at 16, he took a lead role in "The Lost Boys". After the filming Haim first admitted to using drugs. He soon went from marijuana to crack cocaine.
"For me rock bottom was I couldn't look in the mirror in the morning," Haim told ABC News Nightline several years ago. "I feel like with myself, I ruined myself to the point I was not functionable to work for anybody. Even myself, I wasn't working".
Feldman and Haim, Kirk Cameron (Mike Seaver in "Growing Pains"), River Phoenix ("Stand by Me" 1986) all hung out together during the late 80s. "It just took my breath away", Cameron said speaking about the recent death of his two friends. Just three weeks ago Andrew Koenig took is own life. "It was a one-two punch" Cameron added.
Haim and Koenig join a long list of other teen stars that did not make it through middle-age. River Phoenix (August 23, 1970 – October 31, 1993) died from an overdose of heroin in 1993. Brad Renfro (July 25, 1982 – January 15, 2008), who stared in "The Client" at age 12 died at age 25 from an apparent overdose of heroin. Jonathan Brandis (April 13, 1976 – November 12, 2003), star of "Lady Bugs" (1992) hung himself at age 27.
By: Jael Kirk