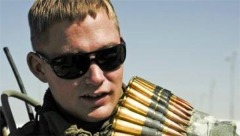 Scene From The Hurt Locker
Digital News Report – The ratings for the Academy Awards were up this year compared to last, thanks in part to last minute changes and cuts. The horror film scenes early in the ceremony kept the audience in suspense and may have helped boost the ratings.
The movie "Avatar" was incredibly popular becoming the global top grossing film. This also may have kept visitors watching. Fans were surprised to see the director's ex-wife, Kathryn Bigelow, win for best director while her film, "The Hurt Locker", won best picture.
The Academy also decided to include more films in their "best picture" category. Typically there are 5 films nominated for best picture. This year they decided to include ten films.
"The Hurt Locker" was not a big hit at the theaters. First released in Italy in 2008, the film did not hit US theaters (limited) until June of 2009. In July it was released in more theaters but wasn't considered a blockbuster.
But as the Oscars neared the appreciation for the film became widespread. This drama of the underdog may have helped bring-in the audience to the awards.
The numbers are not official yet, but it appears this year's award ceremony was watched by 41 million people. Nielson Ratings (Nielsen Media Research) believes last night's Oscars had the highest ratings since 2005 when 42 million viewers watched "Million Dollar Baby" win.
By: Jael Kirk