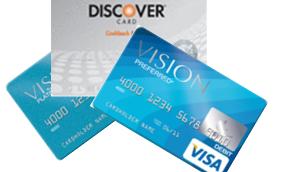 Three New Card Offerings
Digital News Report – With all of the new rules going into effect today, maybe you thought the credit card companies have given up the ghost. Well they haven't. Discover and Visa are offering student credit cards and cards for people looking to develop their own credit score / history.
Credit.com tells the Digital News Report that Discover is now offering the Student Open Road Card. This secured card offers cash rewards on all purchases while helping card-holders build up their credit score.
Secured cards offer customers the opportunity to develop a credit rating. Although they require a deposit, the payments are reported to the credit bureaus. As long as the payments are made on-time, customers can improve their credit score. Debit cards do not provide this service.
The new credit rules taking effect today require persons under 21-years of age to prove they can pay back their credit cards. In lieu of this proof, card-holders can use a cosigner over the age of 21. This Discover Card is a great alternative to a regular debit card and way for students to build a credit history.
The Vision Prepaid Platinum Visa card is now available through the credit.com website (see correction in comment below). This card allows users to spend up to $1,000 per month. There is no student requirement so anyone can get one. There are no monthly fees, no transaction fees and no ATM fees.
Finally the Vision Preferred Prepaid Visa Card offers customers the opportunity to load their card without the need for direct deposit. The company says the card is safer than cash and you can use it anywhere Visa is accepted.
By: Tina Brown