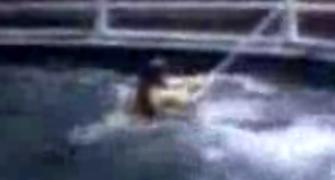 A previous orca attack – see video below
Digital News Report – The orca that killed trainer Dawn Brancheau at SeaWorld Orlando Wednesday, doesn't know its own strength, according to trainers. In 1991 twenty year-old trainer Keltie Byrne slipped and fell into the tank with three whales including Tilikum, a pregnant Haida II, and Nootka IV.
The three whales had never had a human in their tank with them and they grabbed her in their mouths and began tossing her to each other. Investigators at that time suspected the orcas were playing. Byrne drowned and died.
Since then only a dozen of the 28 handlers have been allowed in the tank with Tilikum, according to Jason Garcia with the Orlando Sentinel. Seaworld trainers were "forbidden to swim" with the 22 feet 6 inches long 12,300 pound Orca.
Witnesses say that Tilly, the nickname for Tilikum, grabbed Brancheau on Wednesday and pulled her under the water. She was pronounced dead at the scene and killer whale shows have been suspended both in Orlando and San Diego Seaworld parks.
Seaworld officials say that Tilikum (sometimes misspelled as Tillikum) was not an unusually violent orca. There have been thousands of "interactions" with this whale without any incident since he was captured in 1983 off the Iceland.
After his capture Tilikum was first taken to Sealand of the Pacific near Victoria, British Columbia where he sired his first calf when he was about 8 or 9 years old. In 1992, not long after the death of Keltie Byrne, he was moved to Sea World in Orlando Florida.
Since his move to Orlando he has sired many other calves including:
Taku (1993)
Nyar (1993, died 1996)
Unna (1996)
Sumar (1998)
Tuar (1999)
Tekoa (2000)
Nakai (2001)
Kohana (2002)
Ikaika (2002)
Skyla (2004
Malia (2007)
A second incident occurred when a 27-year old man was found in the Orca tank on July 6, 1999. Apparently the man died from hypothermia and drowning. It was reported that he was found in his underwear. The death of Dawn Brancheau is considered Tilikum's third incident.
Tilikum is the feature of the "Believe" show where the audience and trainers chant "Shamu" as Tillikum soaks the audience.
By: Tim Edwards