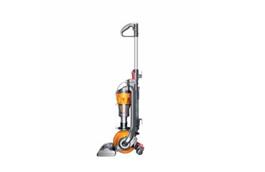 Dyson DC 24
Digital News Report – Now that the house, car and $500,000 giveaway is over at the home cable network, consumers can win a Dyson DC25 Blueprint Upright Vacuum at Women's Day and the Dyson website.
At the Dyson website you will need to buy the vacuum first before being selected at random to win. At Women's Day they are giving away one vacuum each day until March 7th. Although there is no purchase necessary, contestants need to be careful because they can accidentally subscribe to the magazine.
James Dyson has been making vacuums since 1979 when he first came up with the idea to use cyclone technology. In 1983 the company came out with the G-Force and then later started their DC models.
The Dyson DC24 Blueprint Limited Edition is currently not in stock, according to the Dyson website. They say they are celebrating their "engineers" with this model. They incorporate a low-profile "Flat Out™" head is designed for vacuuming under furniture.
The DC-25 is an lightweight upright vacuum cleaner designed to clean all types of floors. They are available in three colors: yellow, purple and blue. They are also available exclusively in other colors at certain stores.
The Dyson DC24 Blueprint Limited Edition is the smaller version of the DC25. It weighs just 11.9 pounds but like other Dyson's has extraordinary suction power.