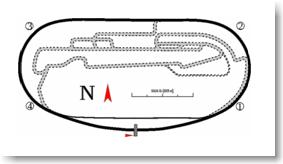 Auto Club Speedway
Digital News Report – FONTANA CA – Jimmie Johnson won the Auto Club 500 today followed by Kevin Harvick and Jeff Burton in third place. This was the second race of the regular season and Johnson came in third place at last week's Daytona 500.
Mark Martin won two of the practice runs while Johnson won the second. Martin came in fourth place at the Auto Club Speedway in Fontana today. Johnson has won five times at this speedway.
"Life is good, we're glad to be back in Victory Lane," said the 34-year old four-time NASCAR Sprint Cup Series champion.
Chevys dominated the field today taking the top four spots. Coming in 5th place, Joey Logano drove a Toyota. Kurt Busch driving a Penske Dodge came in 6th place.
Here is the list for the Auto Club Speedway:
| | | | | |
| --- | --- | --- | --- | --- |
| Position | Car | Driver | Team | Make |
| 1 | 48 | Jimmie Johnson | Hendrick Motorsports | Chevrolet |
| 2 | 29 | Kevin Harvick | Richard Childress Racing | Chevrolet |
| 3 | 31 | Jeff Burton | Richard Childress Racing | Chevrolet |
| 4 | 5 | Mark Martin | Hendrick Motorsports | Chevrolet |
| 5 | 20 | Joey Logano | Joe Gibbs Racing | Toyota |
| 6 | 2 | Kurt Busch | Penske Racing | Dodge |
| 7 | 17 | Matt Kenseth | Roush Fenway Racing | Ford |
| 8 | 33 | Clint Bowyer | Richard Childress Racing | Chevrolet |
| 9 | 14 | Tony Stewart | Stewart-Haas Racing | Chevrolet |
| 10 | 16 | Greg Biffle | Roush Fenway Racing | Ford |
| 11 | 82 | Scott Speed | Red Bull Racing Team | Toyota |
| 12 | 83 | Brian Vickers | Red Bull Racing Team | Toyota |
| 13 | 99 | Carl Edwards | Roush Fenway Racing | Ford |
| 14 | 18 | Kyle Busch | Joe Gibbs Racing | Toyota |
| 15 | 0 | David Reutimann | Michael Waltrip Racing | Toyota |
| 16 | 77 | Sam Hornish Jr. | Penske Racing | Dodge |
| 17 | 1 | Jamie McMurray | Earnhardt Ganassi Racing | Chevrolet |
| 18 | 98 | Paul Menard | Richard Petty Motorsports | Ford |
| 19 | 78 | Regan Smith | Furniture Row Racing | Chevrolet |
| 20 | 24 | Jeff Gordon | Hendrick Motorsports | Chevrolet |
| 21 | 12 | Brad Keselowski | Penske Racing | Dodge |
| 22 | 36 | Mike Bliss | Tommy Baldwin Racing | Chevrolet |
| 23 | 6 | David Ragan | Roush Fenway Racing | Ford |
| 24 | 19 | Elliott Sadler | Richard Petty Motorsports | Ford |
| 25 | 43 | A.J. Allmendinger | Richard Petty Motorsports | Ford |
| 26 | 38 | David Gilliland | Front Row Motorsports | Ford |
| 27 | 71 | Bobby Labonte | TRG Motorsports | Chevrolet |
| 28 | 13 | Max Papis | Germain Racing | Toyota |
| 29 | 11 | Denny Hamlin | Joe Gibbs Racing | Toyota |
| 30 | 34 | Travis Kvapil | Front Row Motorsports | Ford |