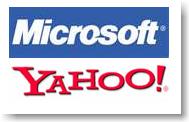 Microsoft Yahoo Logos
Digital News Report – Since the merger talks between Yahoo and Microsoft have dissolved, both companies have worked out a deal to provide advertising and search results to Internet surfers. Both search providers have been struggling to keep up with Google both in search and advertising.
While Yahoo has been working on their Publisher Network for advertisers, Microsoft has been improving their search with Bing. "Implementation of the deal is expected to begin in the coming days and will involve transitioning Yahoo!'s algorithmic and paid search platforms to Microsoft, with Yahoo! becoming the exclusive relationship sales force for both companies' premium search advertisers globally," Yahoo said in a statement.
Basically Yahoo will operate the advertising-sales end of the business while Microsoft will provide the search utility. This will benefit advertisers who use Yahoo because they will add Bing's search results to their repertoire.
The deal was struck last year in July but only now will be realized after both U.S. and European regulators gave the go-ahead. "The companies will begin the transition of algorithmic search and have set a goal of completing that effort in at least the United States by the end of 2010," the companies said in a joint statement today.
The advertising should be integrated November. "The companies also hope to make significant progress transitioning U.S. advertisers and publishers prior to the 2010 holiday season, but may wait until 2011 if they determine that the transition will be more effective after the holiday season," the statement read. Globally they hope to complete the transition by 2012.
By: Sam Lee
Science-Tech Writer