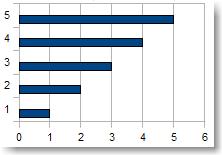 See Chart Below
Digital News Report – While the analytics company Compete says Facebook overtook Yahoo last month, another company that analyzes traffic data reports Yahoo fell to number "4" several months ago (see chart below).
Alexa, which measures "daily reach" as a percent, estimated that Facebook overtook Yahoo back in November 2009. Alexa and Compete both use toolbars as their primary click gathering instrument.
Compete says they used data collected from their 2 million member panel to help determine traffic rank. The company was founded by Bill Gross in 2000. Alexa, which was founded in April 1996, says that by early 2005 there had been over 10 million toolbar downloads. They do not give out information about how many toolbars are in use.
YouTube Discrepancy:
Alexa currently places YouTube in third place behind Google and Facebook while Microsoft's Live ranks 5th. Compete places YouTube in fourth place. Compete also measures things differently. They measure unique visitors while Amazon's Alexa measures the daily reach as a "percentage" of all traffic.
Interestingly, Compete put msn.com above Amazon and Live.com. Alexa places MSN.com in 9th place behind Wikipedia, Blogger and other sites. Compete placed Wikipedia in 9th place.
So which company provides the most accurate data? Leave a comment below.
By: Sam Lee
Science-Tech Writer
| | | |
| --- | --- | --- |
| | Alexa Rank | Compete Rank |
| 1 | Google | Google |
| 2 | Facebook | Facebook |
| 3 | YouTube | Yahoo |
| 4 | Yahoo | YouTube |
| 5 | Live.com | MSN.com |
| 6 | Wikipedia | Amazon |
| 7 | Blogger | Live.com |
| 8 | Baidu.com | eBay.com |
| 9 | MSN.com | Wikipedia |
| 10 | QQ.com | Microsoft.com |