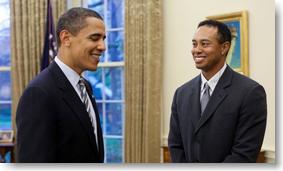 Tiger Met With President Obama last year
Digital News Report – The wife of golfing sensation Tiger Woods got into a spat with one of his alleged mistresses. Elin Maria Pernilla Nordegren married Woods in October 2004 after an introduction by Swedish golfer Jesper Parnevik.
Their marriage seemed to be working great until November 25, 2009 when the National Enquirer published the first report of infidelity. Within two days he had his famous car accident in Florida.
Elin called Rachel Uchitel "home wrecking whore", according to a report from the National Enquirer today. 'You're interfering in my family", the source told the Enquirer. Eilin called her a "bitch" and asked her if she realized kids were involved. "'Don't you realize there are children involved? Don't you care?'"
There have been more than a dozen women claiming to have had an affair with Woods. Joslyn James, a porn star who also alleged an affair, now says she was impregnated twice by Woods.
"The first pregnancy was when Elin was pregnant with Sam in 2007. Actually, the day I was going to tell him, I had a miscarriage," she told Inside Edition. She claimed that she was pregnant in 2008 again. She had an abortion without telling Woods. "Elin was pregnant with Charlie at that time. I just didn't want to ruin anything," she said. She never told Woods because she cared about his marriage to Elin.
Uchitel was the first alleged mistress to be discovered, but there has been a lot of interest in others including Joslyn James. Another alleged mistress was San Diego cocktail waitress Jaimee Grubbs, who released the famous recording where Woods asked her to remove his name from her phone. "Hey it's Tiger, I need you to do me a huge favor. Can you please take your name off your phone? My wife went through my phone…You got to do this for me. Huge. Quickly. Bye." Tiger quickly made a second apology to his fans after that recording was released.
Today his publicist / agent announced that Woods will be holding a news conference on Friday. The Woods organization has limited the number of media outlets. Three outlets will likely be Bloomberg, Reuters and the Associated Press.
They call it a gathering of a small group of friends, colleagues and close associates. "Tiger plans to discuss his past and his future and he plans to apologize for his behavior," Woods' agent said in a statement. The press conference will be held at the TPC Sawgrass Clubhouse in Ponte Vedra Beach, in Florida on Friday at 11am EST.
From Staff Reports