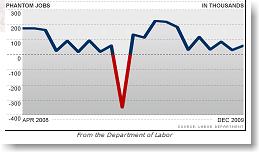 Digital News Report
Digital News Report – It was reported late last week that the Department of Labor may have underestimated the nation's job loss by almost 1,000,000 jobs since 2007 because the government overestimated the number of businesses that opened and underestimated the number of businesses that closed their doors. Forecasters estimate we could be seeing even worse numbers as the year goes on. (see chart below)
California has fared worse than most states with job losses. Much of this can be blamed on the economy but the state's liberal legislature must take responsibility for the impact over-regulation, high taxes and generally unfriendly business environment have had on the state's jobs. Last week I introduced Senate Bill 954, the Jobs Protection Act, which will require any bill that has an economic impact on California business to be sent to committee for the preparation of an economic impact analysis and hearing.
California has become a toxic environment for business. Restrictions, regulations, taxes and other policies bombard business with little coordination or concern for their overall impact. I have introduced the Jobs Protection Act to stop the state's haphazard approach to business.
Specifically, the Act will add an economic impact analysis to the duties of the existing Joint Committee on Boards, Commissions and Consumer Protections. Legislation determined to cost small business over $10,000 or larger businesses over $50,000 will automatically be sent to a suspense file for consideration at a later date.
One of every six American employers that closed permanently in 2008 was in California. Our state experienced 45% more business closures than launches, compared to 10.5% nationally. By the end of 2008 there were almost 47,000 fewer businesses in California than in 2007. The global recession is a convenient scapegoat for California's economic ills – and certainly a factor – but overregulation has been driving businesses out of this state for years, and good jobs with them.
California is bleeding jobs and businesses are shutting down. I believe we need a coordinated approach to the rules and regulations governing our businesses. As it is now, the legislature does not consider the total impact of all the different measures passed. Any realistic hope of getting our economy moving again would have to take into account the impact regulations have on the job market.
I want to see a big picture approach. The Act will provide the legislature with a better understanding of the total impact a piece of legislation will have on California's economy by providing a forum to discuss less costly alternatives that may achieve the same goals.
By: Tom Harman