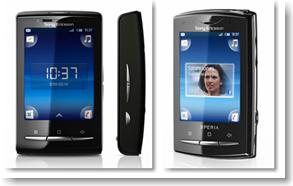 Xperia Mini (left) and Pro (right)
Digital News Report – Sony unveiled their new Xperia X10 Mini mobile phones Sunday. They say the new X10 mini and X10 mini pro are "ultra-compact" but full of features. Although smaller than a credit card (but thicker), the phones include an intuitive 4 corner touch screen user interface.
The pro-phone has a slide-out keyboard with an ergonomic "human curvature design philosophy". They come with the Android 1.6 operating system and Android Market applications.
The original Xperia X1, which came out in September 2009, runs on a Windows Mobile 6.1 operating system with 600MHz Qualcomm MSM7227 processor; while the X2 originally came with the Windows Mobile 6.5 operating system. The X10, which was revealed in November, came with the Android OS.
Although the mini-pro will ship in black and red only, the mini will be available in black, pearl white, lime, pink, red and silver. There is very little difference in size, but they both use 3G connectivity variants with quad-band EDGE, WiFi, and Bluetooth.
Expect to see these new phones in a couple months.
By: Sam Lee