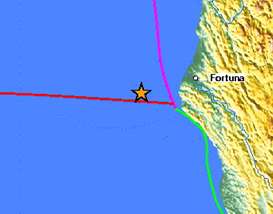 Digital News Report
Digital News Report – Early reports said the northern California earthquake measured 6.0 on the Richter scale but later the USGS downgraded it to 5.9. The quake struck at 12:20 pm Thursday at a depth of 7 miles off the coast of Ferndale / Fortuna.
On January 20th the same area was rocked by a 6.5 earthquake which was felt in Eureka, Yuba City and Redding. The quake was centered 35 miles west-northwest of Petrolia and 36 miles west-southwest of Ferndale.
Did you feel it? Leave a comment below and tell us where you were.
The USGS reported earlier: "A magnitude 6.0 earthquake 321 km Northeast of this one struck the United States on September 21, 1993 (UTC), with estimated population exposures of 1,000 at intensity VII and 47,000 at intensity VI, resulting in a reported 1 fatality. Recent earthquakes in this area have caused, landslides and liquefaction that may have contributed to losses."