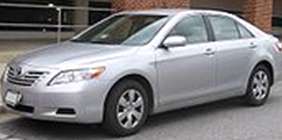 Toyota Camry
Digital News Report – As expected after the major recall of Toyota vehicles, sales are dropping off quickly. The dealers are unable to sell some of their most popular models including the Corolla and Camry. The widely publicized problem with the sticky gas pedal has not helped matters.
Sales in January dropped 16% from a year ago, according to a report from Edmonds. "As long as sales of recalled Toyota models are suspended, Toyota will suffer about a 75 percent hit in sales," said Edmunds.com Senior Analyst Ray Zhou, PhD. "During this period, Scion may be down about 20 percent and Lexus may be down about 10 percent because of damage to the Toyota corporate brand."
Edmond's sales tracker predicted a 12 percent drop, but sales have fallen 47% from December. This could help General Motors and other companies suffering from the recession.
Edmonds made some recommendations for customers who were looking for at the recalled Toyota models.
| | | | |
| --- | --- | --- | --- |
| If you considered: | Also look at: | | |
| 2010 Toyota Camry | 2010 Chevy Malibu | 2010 Ford Fusion | 2010 Honda Accord |
| 2010 Toyota Corolla | 2010 Honda Civic | 2010 Hyundai Elantra | 2010 Mazda3 |
| 2010 Toyota RAV4 | 2010 Chevy Equinox | 2010 Nissan Rogue | 2010 Subaru Forester |

David Tompkins, PhD, Senior Analyst for Edmonds says "In the past two weeks, purchase intent for Toyota has fallen from 13.9 percent of the market to 9.7 percent."
Ford, Chevy, Honda and Mazda have made the best of the situation and sales have actually climbed.  Ford sales are up 24 percent compared to a year ago,
Tompkins says Toyota can make a comeback, but the situation with the accelerator needs to be fixed.