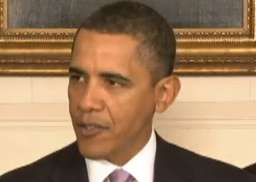 President Obama Today
Digital News Report – Citi Group, Bank of America and JPMorgan Chase all fell nearly 6 percent as the Obama Administration outlines new banking regulations. The Dow Jones Industrial Average (DJIA) is down 183 points, 1.73 %, to 10,419.96. The Dow dropped 219 points during President Obama's speech.
The market is very volatile on heavy trading. The NYSE is not yet closed but it appears Dow will close at the lowest point of the year.
The President wants to prevent the conditions which led to this last financial collapse. "We have to enact common-sense reforms that will protect American taxpayers – and the American economy – from future crises as well," President Obama said.
Here is what the President wants to do: "That's why we are seeking reforms to protect consumers; we intend to close loopholes that allowed big financial firms to trade risky financial products like credit defaults swaps and other derivatives without oversight; to identify system-wide risks that could cause a meltdown; to strengthen capital and liquidity requirements to make the system more stable; and to ensure that the failure of any large firm does not take the entire economy down with it."
Critics will say the regulation would limit the ability of the banks to benefit all kids of borrowers.
Basically the proposal will:
1) Limit risk taking by the banks. "First, we should no longer allow banks to stray too far from their central mission of serving their customers. In recent years, too many financial firms have put taxpayer money at risk by operating hedge funds and private equity funds and making riskier investments to reap a quick reward."
2) Limit the Size of banks. "I'm also proposing that we prevent the further consolidation of our financial system. There has long been a deposit cap in place to guard against too much risk being concentrated in a single bank. The same principle should apply to wider forms of funding employed by large financial institutions in today's economy."
Read the complete Transcript of Remarks by the President on Banking Reform
By: Mark Williams