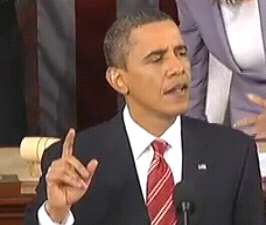 President Obama Wednesday
Digital News Report – President Barack Obama delivered his first State of the Union Speech Wednesday to the joint session of Congress. His main focus was unity and the economy. This was is first State of the Union Address and second speech to a joint session.
Flanked by House Speaker Nancy Pelosi and Vice President Joe Biden, the President called for an end to smear politics. "We can't wage a perpetual campaign where the only goal is to see who can get the most embarrassing headlines about the other side – a belief that if you lose, I win," the President said.
The Economy:
His first major task when taking office was shoring up the financial system. He admitted that everyone hated the bank bailouts. "It was about as popular as a root-canal."
But the bailouts were necessary to prevent a bank meltdown, according to Obama. "The markets are now stabilized, and we've recovered most of the money we spent on the banks" The President proposed a fee on institutions that have not paid back the government loans.
Taxes:
The President passed 25 tax cuts, including small business and student tax cuts. This led to a great applause. "As a result, millions of Americans had more to spend on gas and food and other necessities, all of which helped businesses keep more workers … We haven't raised income taxes by a single dime on a single person. Not a single dime."
Jobs:
The President claimed that his measures have created 2 million jobs. "And we're on track to add another one and a half million jobs to this total by the end of the year," the President said. The recovery act had much to do with these jobs.
President Obama admitted that many people are still out of work. The unemployment rate is still high. "That is why jobs must be our number-one focus in 2010, and that's why I'm calling for a new jobs bill tonight."
The President also proposed building and improving the infrastructure, similar to Ike's Interstate Highway System. He also wanted to give tax credits for businesses who keep jobs in the states.
"I want a jobs bill on my desk without delay."
Small Business:
Although banks are lending again, they are only lending to large companies. The small companies are not benefitting. "So tonight, I'm proposing that we take $30 billion of the money Wall Street banks have repaid and use it to help community banks give small businesses the credit they need to stay afloat."
The President proposed a tax credit for businesses that hire new workers or give workers a pay increase. He also proposed eliminating the capital gains taxes on small businesses that make investments in plants and equipment. Congress loved that proposal.
By: Mark Williams