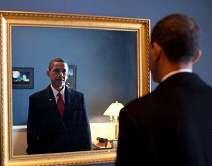 President Obama Looking At The Man In The Mirror
Digital News Report – President Barack Obama today outlined a plan to help the American middle class by doubling the income tax credit for child care, among other things.
The President is proposing an initiative that would help middle-class families "afford soaring child care costs, care for their aging relatives… [while coping] with the challenge of saving for retirement; and pay for their children's college tuition."
The President said the middle class is under assault. Here is what the President wants to do:
• Double the child and dependent care tax credit for middle class families making under $85,000 per year.
• Limit student loan payments to 10 percent of the borrowers income. This may only apply to Federal loans.
• Create automatic IRAs fro the workplace and require employers to give the option for enrollment.
• Expand tax credits to match retirement savings. Put measures in to protect those savings.
• Encourage and support families who care for aging relatives.
By: Mark Williams