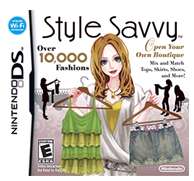 Style Savvy Game
Digital News Report – The ever busy Beyonce Knowles is taking on a new gig. The singer / fashion designer announced that she will be doing commercials for "Style Savvy" which will air on Nickelodeon.
Style Savvy is a fashion video game developed by Syn Sophia and produced by Nintendo. The game was released in November for the DS. Players buy clothes and accessories using the game controls.
Players can also change hair styles, outfits and work on their shop by managing items, making ads, and more. Using the wireless play they can also visit other shops made by other players.
By: Jael Kirk
Common Mispellings: Savy