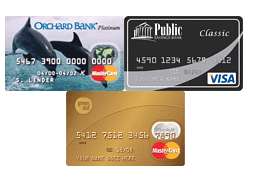 Three New Cards
Digital News Report – Credit.com has introduced some new credit cards to their affiliate program lineup. The company offers various services including debt help, credit cards and pre-paid credit cards.
The Orchard Bank Mastercard is being offered to customers with "less than perfect credit", the company says. This is a pre-paid card that offers a simple preapproval process. Users of this card can use it to build a positive credit history.
The Public Savings Secured Card only requires a $200 opening deposit. They say the approval process is easy too. Again this is a great card to build credit because they report to all three credit reporting agencies.
Finally, their third card, The Green Dot Gold Prepaid Mastercard carries low fees compared to other prepaid cards. The advantage to this card is that there are no credit checks. You don't even need a bank account for this card.
Some people are straddled with bad credit or "no" credit. Prepaid cards offer a way to develop a positive credit history. Just make sure you pay your minimum payment each month. Some credit gurus say don't pay the card off every month, just make the minimum so you can develop a history.
Always check with your financial advisor before making financial decisions.
By: Tina Brown