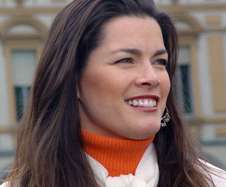 Nancy Kerrigan – photo courtesy: Gianluca Platania
Digital News Report – The brother of skating star Nancy Kerrigan has been charged with assault after the death of their father. The 45 year-old brother, Mark Kerrigan, was allegedly involved in a scuffle with his father before police found the parent non-responsive.
Kerrigan's brother has not been charge with murder, even after their 70 year-old father, Daniel, died.
The Boston Globe reports that Mark Kerrigan was released on $10,000 cash bailafter pleading not guilty to all charges.
Olympic skater Nancy Kerrigan was the victim of an attack by fellow skater Tonya Harding in 1994. Harding and a former husband, Jeff Gillooly and friend Shawn Eckardt, plotted to eliminate Kerrigan from the Olympics by striking her in the knee with a collapsible baton. After the attack cameras recorded Kerrigan's unforgettable cry: "Why me? Why, why, why?"
By: Greg Cook