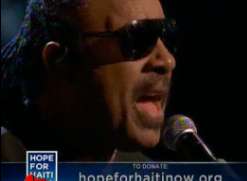 Stevie Wonder – see video below
Digital News Report – It has been nearly two weeks since the 7.0 earthquake struck Haiti and the country is still reeling from the disaster.
Although a boy was pulled from the rubble on Friday, hope is diminishing that anyone else will be rescued alive. A series of aftershocks have been hitting the island of Hispaniola with one measuring 4.7 on the Richter scale Sunday.
The Hope for Haiti Now group, in partnership with MTV networks, is still raising money. They have not issued an official release but reports of money raised range from $58 million to $79 million. The charity received a boost on Friday when they held their telethon hosted by George Clooney.
The donations continue to flow in, according to President of the Entertainment Industry Foundation, Lisa Paulsen. "The public has set a new standard of giving for a relief telethon with Hope for Haiti Now and the donations continue to come in," Paulsen said in a statement.
By: Mark Williams