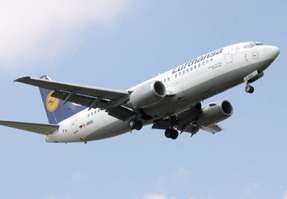 The first classic 737 variant was the 300 series
Digital News Report – BREAKING NEWS: An Ethiopian Airlines plane with 90 passengers on board crashed just after taking off from Beirut International Airport.
Lebanese officials say the plane crashed into the Mediterranean during stormy weather. An early report from the Guardian stated that officials said 85 people were on board. Voice of America reported 90 "passengers". Aljazeera reported 83 passengers and up to seven crew.
The plane was a Boeing 737 traveling from Beirut to Addis Ababa, the capital of Ethiopia.
The plane crashed early Monday morning, according to a report from Bloomberg. CNN reported the plane crashed minutes after the 2:15 am takeoff. The VOA report said witnesses on the coast saw a ball of fire when the plane crashed.
There are no reports of survivors but there are local reports that the Lebanese Navy is pulling people out of the water.
The wife of the French ambassador to Lebanon was on board that flight.
The plane crashed about 15 km from the airport, according to the CNN report. The wreckage is between 1.5 to 3 km into the Mediterranean Sea.
The report continued: 54 of the passengers were Lebanese, 22 Ethiopian and others including and Iraqi and Syrian.