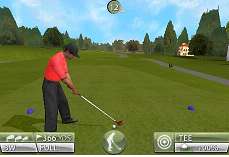 iPhone PGA Tour
Digital News Report – There is good news for Tiger Woods' fans, the new PGA Tour 11 game will be released for multiple platforms in June.
EA Inc, the maker of the golf game, says the game will be available for Sony Playstation 3, Microsoft Xbox 360, Nintendo Wii and even the Apple iPone.
EA has been producing golf games since 1986. In 1998 the company signed Tiger Woods on for their Tiger Woods PGA Tour Golf.
The PGA Tour 10 utilized the Wii's MotionPlus peripherals. Perhaps the version for iPhone should include similar technology.
By: Sam Lee