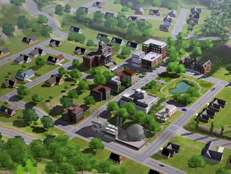 Sims 3
Digital News Report – The successful franchise, The Sims, was the top PC game last year. The new Sims 3 PC game was a bestseller of 2009, according to the NPD Group, a consumer and retail market research company.
It even outsold World of Warcraft. EA said that this is the 6th time in this decade that a game from The Sims was at the top of the chart. In the first week of being out, "The Sims 3" sold 1.4 million games.
The Sims 3 is now available for Mac's and now on iPhones. In February, The Sims will be celebrating their 10th year anniversary.
The Sims is the best of the decade for games. Over ten years the game has really changed. In the original SIMS there was not much to do, and you only had one land area. The Sims 3 will let you go anywhere you want without it "loading" at all.
Going somewhere like downtown in a car started in The Sims 2 Nightlife.
The Sims 3 website has a place where you can make movies with some clips that the Sims creators made. In the Sims 3, you can make your sims fat or skinny, with muscles or not, and even control their hair highlights.
By: Sam Lee