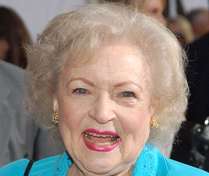 Betty White – photo: Angela George
Digital News Report – Betty White, one of the most acclaimed actresses, is also a joy to work with, according to her peers. With 18 nominations, she has won six Emmy Awards.
Last night the 88 year-old White accepted the Life Achievement Award at the 16th Screen Actors Guild Awards from actress Sandra Bullock. In 1990 she won American Comedy Awards (ACA) Lifetime Achievement Award. Sandra Bullock won the Funniest Actress In A Motion Picture award for Miss Congeniality at the 2001 ACA.
By: Jael Kirk