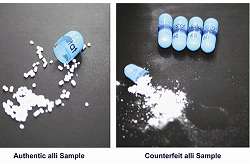 Digital News Report
Digital News Report – Officials say that the counterfeit version of the Alli diet pills are dangerous. The fake verision of Alli may contain high levels of sibutramine.
Sibutramine, manufactured by Abbott Laboratories, is used in brand named drugs like Reductil, Meridia and Sibutrex as an appetite suppressant. There may be serious problems with the drugs and its use has been suspended in the UK. It is also under review by the FDA.
The Alli sold in stores does not appear to be the problem. "The U.S. Food and Drug Administration (FDA) is updating its warning to the public about a counterfeit version of Alli 60 mg capsules (120 count refill pack) being sold over the internet", the FDA said in a statement this week.
Alli should not contain Sibutramine. Alli uses orlistat. "Although sibutramine is the active ingredient in another FDA-approved prescription weight loss drug, it is only to be used in specific doses and under the supervision of a physician", the FDA added.
The counterfeit Alli is unsafe and contaminated with dangerously high levels of chemicals, according to the FDA.
Click Here to Read the FDA warning and see examples of fake Alli.