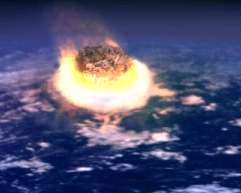 Illustration of the impact event
Digital News Report – Digital News Report – A group of scientists released a report today recommending NASA launch an infrared telescope to monitor Near Earth Objects (NEO). NASA has been tasked with cataloging and protecting the earth from a collision by 2020.
Various objects including comets, asteroids and meteorites can cause great damage to our planet if they collide. In 2005 Congress passed the Near-Earth Object Survey Act which challenged NASA to catalog 90 percent of the NEOs 140 meters or larger within 15 years.
Currently NASA spends $4 million a year surveying and logging NEOs. They spend another million trying to figure out ways to protect the earth. But this may not be enough to finish the job, according to the report titled: "Defending Planet Earth: Near-Earth Object Surveys and Hazard Mitigation Strategies."
In the report the scientists said: "If completion of the survey as close to the original 2020 deadline as possible is considered most important, a space mission conducted in concert with observation using a suitable ground-based telescope is the best approach."
By: Sam Lee