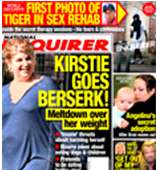 National Enquirer – Tiger top right
Digital News Report – Professional Golfer Tiger Woods has been spotted at a sex rehab clinic in Hattiesburg, Mississippi, according to the National Enquirer.
The Pine Grove Behavioral and Addiction Service also treats other addictions, but a report in the New York Post suggests that the golfer was admitted for sex addiction. Woods is allegedly involved in the Pine Grove's "Gentle Path" program geared toward sexual addiction.
The Post headline says: "Sexual healing for caged Tiger". Woods is there because of his wife, Elin Nordegren, threatened divorce if he didn't get immediate help, the Post states citing another source.
Remember the National Enquirer? The tabloid was known for shoddy reporting. Sometimes they get it right. This may be one of those times.
The Enquirer got photos of Tiger in the rehab. "A grim-looking Tiger no longer resembles the strapping, all-American athlete and family man," the Enquirer said. "Instead he appears ill at ease and is apparently trying to disguise himself beneath a baseball cap and hoody – and with a new crop of facial hair."
By: Jael Kirk