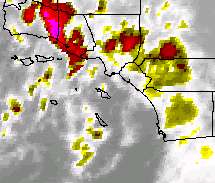 Current IR View
Digital News Report – Bad weather in Southern California has knocked out power and prompted officials to cancel flights at Lindbergh Field (San Diego International Airport).
High winds and heavy rain downed power lines throughout San Diego County. Earlier in the day Southwest Airlines cancelled flights because of the winds.
"Due to unfavorable wind conditions, we have cancelled the majority of our flights to/from San Diego (SAN) on Thursday, January 21," the airline said in a statement.
The company is telling customers holding ticket to and from the airport to rebook their flights. Call 1 (800) 435-9792 for assistance if you purchased your tickets through the airline.
Sea World also had to close today. This is the first time they closed their doors since 1998 because of inclement weather. Attendance was low already.
By: Greg Cook