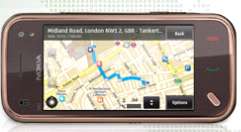 Nokia Map App
Digital News Report – Companies come and go in business, and Nokia may have developed the GPS killer. For years Magellan, TomTom and Garmin have produced ever-improving GPS systems, but their days may be numbered.
Free integrated map and GPS applications for Smartphones are the game-changer. Nokia and other companies have been encouraging developers to produce apps for their phones.
Nokia has developed an "Ovi Maps" application that gives users free drive and walking navigation, free map updates, and events guides. Their app covers 70 countries and can be updated wirelessly.
TomTom has new updates, but they will cost you $50 or more.
Nokia has an advantage over Google Maps which require a data connection. Nokia's maps are pre-loaded on the phone and can be updated wirelessly.
By: Sam Lee