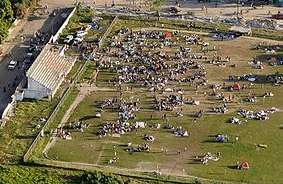 Haitians flood soccer field after quake
Digital News Report – Celebrities, movie stars and rock stars will be getting together on Friday January 22nd 2010 to solicit the public for donations to help those in need in Haiti. The telethon begins at 8 pm ET and ends at 10 pm.
The poorest nation in the western hemisphere, Haiti, was hit by a 7.0 earthquake on January 12th that killed at least 200,000 people (figures from Haiti News). Officials have not finished counting the bodies, some of which have been buried in mass graves.
Actor George Clooney will be hosting the telethon. Headline acts include Bono (U2) and Cold Play. The event will be broadcast from London, New York and Los Angeles. Special reports will be telecast from Haiti.
Other musical guests include:
Modonna, Beyoncé Knowles, Christina Aguilera, Sting, Bono, The Edge, Justin Timberlake, Alicia Keys, Bruce Springsteen, Dave Matthews, Keith Urban, Sheryl Crow, Taylor Swift, Jennifer Hudson, Mary J. Blige, Jay-Z, Rihanna, Shakira, Stevie Wonder, Ashley Tisdale.
Actor and celebrity guests include:
Ellen DeGeneres, Tobey Maguire, Zoe Saldana, Jason Bateman, Ben Affleck and Leonardo DiCaprio.
Here is the lineup of channels:
MTV, VH1, BET and CMT, ABC, CBS, FOX, NBC, PBS, The CW, CNN, CNN International, TNT, Bravo (US), Oxygen, E!, Style Network, G4, Fuse TV, ReelzChannel, MLB Network, HBO and the National Geographic Channel.
In Canada the event will air on CTV, CBC Television, Global, MuchMusic and MTV Canada.
By: Mark Williams