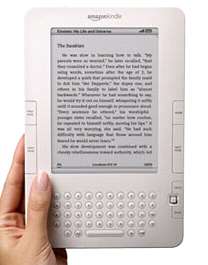 Amazon Kindle
Digital News Report – Amazon is allowing authors to add Digital Rights Management (DRM) to their works which will be distributed on the Kindle. DRM refers to the access control placed by hardware manufacturers on printed or other copyright material.
Video and audio equipment manufactures have already limited capabilities on their products. Apple, Sony and other companies have implemented digital rights management on their iPods and video players.
By default, Amazon has not used DRM on the works uploaded by publishers and authors, the Register Online reports, while other publishers have already been using DRM technology.
Amazon has also unveiled a software application development kit for Kindle developers. Applications will be sold through their Kindle Store.
Amazon will be facing stiff competition from Apple after the computer company releases their iPad (sometimes called an iSlate tablet) later this year. The company is looking to position themselves in advance of Apple.
By: Sam Lee