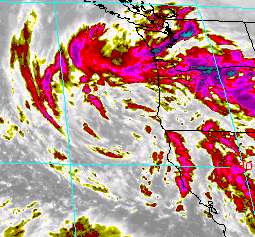 Current Infrared Satellite Imagery
Digital News Report – The National Weather Serviced issued a tornado warning for Santa Clara and Santa Cruz Counties. There is also a small craft advisory through tonight for the central coast including Monterey and San Francisco bays.
The tornado warning was issued at 2 pm and expired at 2:45.
No tornadoes were spotted but officials said a thunderstorm formed that could produce quarter-sized hail and tornadoes.
There is a 90 percent chance of rain tonight and 100 percent tomorrow. Expect winds between 14 and 24 mph through the night. There is a slight chance of rain through Sunday.
By: Mark Williams