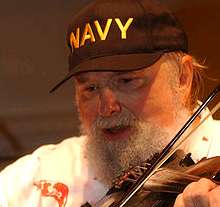 Charlie Daniels in 2003
Digital News Report – Charlie Daniels will not cancel any shows after suffering a mild stroke in Colorado on Friday. The country music star didn't feel well while snowboarding and was taken to Mercy Regional Medical Center in Durango.
After some initial treatments doctors decided to airlift Daniels to the Swedish Medical Center in Denver where he was released on Sunday.
"I noticed that my left hand was getting numb and thought that it was because I had been hanging on to the handle bars of my snowmobile for so long that it had gone to sleep, but then I felt the left side of my mouth starting growing numb and my left foot started getting hard to control and I knew something was happening to me," Daniels told fans on his soap box forum. "I knew I'd better get back down the mountain and get some help."
When they arrived back at their vehicles Daniels took a baby aspirin. By the time he arrived at Mercy Regional he had lost so much coordination that he needed to be wheeled-in via a wheelchair.
After administering tPA (Tissue Plasminogen Activator) to loosen the blood clot, he was loaded onto an ambulance plane and hurried off to Swedish Medical Center in Denver. Tests confirmed he had a stroke.
"I wanted to share with you is how the fingerprints of God were all over my experience," Daniels said.
"Don't procrastinate or try to tell yourself it's going to go away," is his recommendation. "You only have three hours from the time you feel a stroke coming on to get a shot of tPA into your system to break up the blood clots that are causing the stoke. So don't play with your life, get help."
Read More:
Blocking the IKK2 Protein may Prevent Brain Damage Due to Stroke
By: Jason Chang