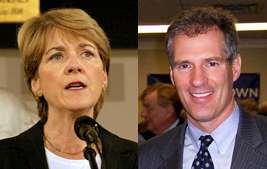 Coakley and Brown
Digital News Report – Although Democrat Martha Coakley was a 30-point favorite just a few months ago, the Massachusetts Senate race has really tightened up. The Republican challenger, Scott Brown, may now be leading in this close race.
Secretary of State Bill Galvin said voting would be much heavier compared to the primary election last year. Voters flooded polling stations according to a report from the Boston Globe.
With just 18 percent of the precincts reporting, Brown is leading Coakley 52-47 percent, Fox News reported. Coakley has alleged voter irregularities / fraud, according to a report from the Globe.
"We've received several independent and disturbing reports of voters across the state being handed ballots that are already marked in favor of Scott Brown," Campaign Manager Kevin Conroy said on the Coakley website. "This is obviously a serious violation, and our legal team is taking immediate steps to protect the integrity of this election."
Browns campaign retorted: "Reports that the Coakley campaign is making reckless accusations regarding the integrity of today's election is a reminder that they are a desperate campaign … The reality is that Massachusetts voters will determine the outcome of this election despite political attacks leveled by Martha Coakley and national Democrats."
By: Mark Williams