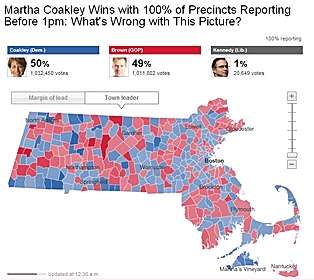 Image from the Herald
Digital News Report – Analysts say that the Democrats will lose their filibuster-proof majority in the Senate after Scott Brown wins the Massachusetts Senate seat that was held by Ted Kennedy.
Earlier today George Stephanopoulos told the ABC audience that his sources said it looked like Brown would win. Supporters of the Democratic candidate, Martha Coakley, are still holding out hope for a miracle.
Analysts expect the turnout to be larger than the December primary. Massachusetts Secretary of State Bill Galvin told CNN that he predicts 2.2 million of 4.5 million registered voters would vote. He didn't think the weather would stop voters.
Local reports indicate that Brown is winning I the exit polls.
The Boston Globe may have jumped the gun. The Boston Herald reported the Globe posted an online map of Massachusetts voting results declaring Attorney General Martha Coakley the winner.
The problem is: The polls are open until 8 pm.
By: Mark Williams