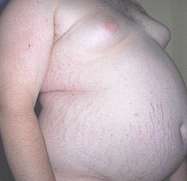 A Person with a BMI of 46
Digital News Report – Morbidly obese people can extend their lives by three years if they undergo gastric-bypass surgery, a report in the January issue of Archives of Surgery suggests.
Morbidly obese is defined as a body mass index of 40 or more. BMI can be computed by dividing your weight times 703 by your height in inches (see chart below).
Approximately 5.1 percent of Americans are morbidly obese.
The researchers created a model from two large surveys and a large observational trial to determine the benefits from gastric bypass surgery. There are also risks involved in the surgery and they wanted to incorporate those risks too.
They found that a 42-year-old woman with a BMI of 45 gained additional three years of life expectancy as a result of undergoing bariatric surgery. A 44-year-old man with the same BMI could gain an estimated 2.6 additional years of life.
"In conclusion," the authors wrote, "while not all patients are guaranteed a good outcome, our model indicates that gastric bypass increases life expectancy for most patient subgroups; however, for those at high surgical risk or in whom efficacy of surgery is likely to be low, benefit will be minimal," the authors write. "We believe results of this analysis can be used to better inform both patients' and physicians' decisions regarding gastric bypass surgery."