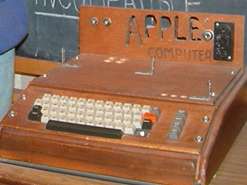 First Apple Computer – credit: rebelpilot
Digital News Report – Although Apple is expected to announce their new iSlate tablet January 27th, the product will not ship until June. Yesterday Apple sent reporters invitations to an event in San Francisco next week. The company is expected to make a new product announcement at that time.
Earlier reports suggested that the iSlate will ship in February, but CNN is now reporting that it will not be available until June. The report quotes Kaufman Brothers' Shaw Wu who says there are some issues that need to be worked out.
There are "minor issues that need more work including battery life and durability," Wu said. The Apple iPhone was also announced in January and didn't ship until June.
Don't expect the iSlate to replace the Mac. "From our understanding, it is not intended to replace a Mac but to be somewhat of a 'super' iPod touch where video, gaming, web browsing, e-books, and the ability to run multiple apps," Wu said.
Shares in Apple hit a record all-time high Tuesday with news of the new product expected.
Apple gained 4.42 percent and closed at an all-time high of $215.04. At one point shares hit $215.19.
By: Tina Brown
More on the above photo: The Apple I, Apple's first product. Sold as an assembled circuit board, it lacked basic features such as a keyboard, monitor, and case. The owner of this unit added a keyboard and a wooden case.