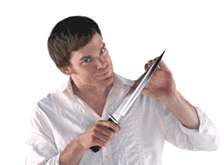 Dexter on Showtime
Digital News Report – Michael C Hall, the star of Dexter and winner of last night's Golden Globe Award for Best Television Performance by an actor, is confirmed to have Hodgkin's lymphoma (aka Hodgkin's Disease).
Last night he accepted his award wearing a hat. He didn't mention his illness.
The 38 year-old actor is undergoing treatment for the disease which is reported to be in remission. The disease usually occurs in young adulthood between the age of 15 and 35 or in older adults over 55 years of age.
The survival rate is usually 90 percent or better if detected early. Symptoms include
• Night Sweats
• Unexplained Weight Loss
• Enlarged Lymph Nodes
Hall stars and co-produces Dexter, which appears on Showtime. It revolves around a detective, Dexter Morgan, who moonlights as a serial killer who kills serial killers.
By: Jael Kirk